Perkasie Patchwork Coffeehouse is thrilled to welcome Cornflower Jam and Ray Fifer to our next coffeehouse  on Saturday, February 25, at 7:30 pm. Doors open at 7 pm. Masks are strongly recommended except when eating some of our delicious refreshments.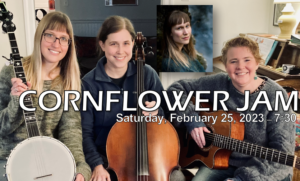 Born out of the greater Philadelphia music scene and a love of American roots music, these four talented musicians paint a canvas of thoughtfully crafted vocal and instrumental harmonies.
Laura Fitzsimmons: vocals, banjo, guitar
Christy Lou: vocals, banjo, guitar, fiddle
Laura Alexander: vocals, cello
Ray Fifer: vocals, upright bass
Their collaboration began at the jams and festivals in the greater Philadelphia area, where they discovered a musical community and connection around the folk tunes and songs that shaped the people of our land. Cornflower Jam's sound is influenced by folk legends such as the Carter Family, Pete Seeger, Malvina Reynolds, Rosalie Sorrels, Ollabelle Reed, and Hazel Dickens, as well as modern Americana artists such as Bruce Molsky, Elizabeth LaPrelle, Anna Roberts-Gevalt, Alice Gerrard, Sierra Ferrell, Richie Stearns, Rosie Newton, Rachel Eddy, and many others. In addition to traditional music and covers, they play their own original music. For more info and music, see Cornflower Jam.
Laura Fitzsimmons is originally from Baltimore but moved to Philadelphia in recent years. Growing up, Laura trained as a cellist, pianist, and played steel drums in high school. Some of her many passions include nature, beads, edible fungi, and, of course, singing and playing folk, bluegrass, and traditional old-time music. She sings and plays banjo, cello, and guitar with Cornflower Jam.
Christy Lou grew up in Delaware County, Pa, and spent her formative years playing guitar and singing folk songs from the 1960s and 1970s. She loves hiking, nature, home brewing, and making music with friends — especially her "cornflower sisters." Christy is currently a Philadelphia educator and also taught banjo and fiddle at the Bucks County Folk Music Shop. She writes neo-traditional folk music, sings, and plays banjo, gourd banjo, fiddle, guitar, and mandolin with Cornflower Jam.
Laura Alexander was born and raised in West Chester, Pa., and met her Cornflower Jam bandmates at the Brandywine Old-Time Revival Festival in Chester County. She's excited to explore playing and couldn't ask for more gracious and fun bandmates! When she's not playing with Cornflower Jam, you can find her playing for folk dances with Box and String Trio, organizing a contra dance in Arden, DE, or moonlighting on weekdays as a chemist. Laura sings harmony and plays cello and tenor fiddle with Cornflower Jam.
Rachel Fifer grew up contra dancing, waltzing, and playing classical, jazz, and folk music in Charlottesville, VA. From family dance camps to queer women's choirs, from Balkan music & dance groups to choral consorts, from international folk traditions exchanges to Gojjo's Old Time jam, Rachel simply can't stop making music. She aims for connection, rather than perfection. Rachel is passionate about equity, change management, nonviolent communication, renewable energy, urban farming, employee advocacy, Kizomba dancing, and delicious cheese.
February concert flyer.
The Perkasie Patchwork Coffeehouse is a ministry of the Perkasie Mennonite Church. The coffeehouse is warm and cozy, with lots of atmosphere. It is a place where people can enjoy fellowship and see some of the best performers available up close and personal, in an intimate setting. Perkasie Patchwork Coffeehouse is located in the church fellowship hall, which is air conditioned and handicap accessible.
Admission: $12 for adults; $10 for adults 65 and over; students 13 and up, $6; 12 and under free. All ticket sales at door, no advance sales, no reservations.  Delicious desserts and drinks are available. The doors open at 7:00 and performances begin at 7:30.
A portion of our proceeds goes to a local or international social cause. This concert's benefit is Southwest FL ERT, a program of Mennonite Disaster Service helping to repair and rebuild after the devastation of Hurricane Ian. You can also drop off donations of non-perishable food at Patchwork for Pennridge FISH (Fellowship in Serving Humanity), our local non-profit food pantry and clothing outlet here in Perkasie at all our concerts.