Wayne Nitzsche, Pastor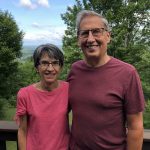 Thank you for browsing our website. I hope you have a better sense of Perkasie Mennonite Church through the words, pictures, events, and links. You are always welcome to come and be with us as we worship, eat, talk, study, work and play together.
Perhaps you have noticed that our mission statement is "to model Jesus." Jesus modeled God's radical, inclusive love and we are challenged by Jesus' example to extend that hospitality to all. We fall short of Jesus' example of non-violent love, but we are on the journey and we'd love to learn from you and your experiences. You don't need to believe the "right" things to be a part of us, but we'd love for you to join us in our aim to follow and model Jesus.
A little bit about me. I grew up on a farm in Nebraska and attended a small Mennonite Church with my family. I am a graduate of Hesston and Goshen Colleges, and hold a Masters of Divinity degree from Anabaptist Mennonite Biblical Seminary. I have had experience in youth ministry, development work in West Africa, and pastoral ministry in congregations in Indiana and Ohio, and work with congregations and pastors within Ohio Conference and Franconia Conference of Mennonite Church USA.
My wife Mary is also an ordained minister with Mennonite Church USA, and serves as Associate Executive Minister with Franconia Conference of Mennonite Church USA. We have two young adult daughters, Alison and Megan, and  son's-in-law, Michael and David, and a grandson William.  We have two "grand-pets," Calvin, a long haired dachshund, (Alison and Michael) and a cat, Layli, (Megan and David.) We make our home in Perkasie.
Mary and I enjoy visiting Michael, Alison and  William, in Long Beach, California; and Megan and her husband David in New York City. I follow sports, especially baseball, football and basketball. I enjoy Netflix series and running. Mary and I walk the wonderful path along the stream in Perkasie, we hike and bike. Reading is a passion, as is good music, conversation with friends, and foods from around the world.
 
Jessica Miller, Associate Pastor
I am delighted to be serving in the role of Associate Pastor at Perkasie Mennonite Church. PMC is a welcoming and caring community, and my husband Patrick and I feel blessed to worship and minister alongside them.
As the Associate Pastor, I help where I'm most needed. My main responsibilities are to lead music one or two Sundays a month and meet with the Worship Team and Community Connections Team to help plan worship and brainstorm ways that we can become more engaged in our local community. You may also find me preaching on a Sunday morning and participating various other ministries of PMC.
Before working at Perkasie I served as the Pastor of Children's Ministries at Souderton Mennonite Church, where I was able to pursue my passion for minsitry while utilizing my B.A. in Elementary Education from Eastern Mennonite University. I've also served overseas through Virginia Mennontie Missions, teaching high school at Lezha Academic Center in Lezha Albania from 2011-2013. In addition to my part-time work at Perkasie, I am currently pursuing my Master's of Divinity at Drew School of Theology in Madison, NJ.
I grew up in Sellersville and then Franconia Township with my parents and younger sister Emily. I now live in Telford Borough with my husband Patrick. In our free time we enjoy reading, walking around town, gardening, yoga, cooking, canning, and anything related to Harry Potter or Lord of the Rings. We love traveling and have each traveled to over 15 different countries, most recently Iceland, the U.K., and Spain. Traveling opens our eyes to not just new places, but new people and new ways of living. We've come to appreciate what many different cultures have to offer us and are always open to trying something new.
Teams
Our church structure consists of five teams:
Ministry Team
Administration Team
Christian Education Team
Community Connections Team
Worship Team