"Those Who Dream" – Advent/Christmas/Epiphany 2020
"When the Lord restored the fortunes of Zion, we were like those who dream" These words from Psalm 126 give us the theme for our Sundays in Advent through Epiphany. What does it look like to live as those who dream? The prophets, the psalmists, John the Baptist, Mary, Elizabeth, Joseph, Simeon, Anna, the shepherds, the magi – they were all dreamers. They received, discovered, and responded to God's dreams for the world. In Advent, we step into the mystery and awe of God's dreams and pray they shape our reality.
This theme is for the dreamers in all of us – those who dream of a deeper connection with God and those who dream of a better world. It's for those who dream of comfort and for those who have given up on their dreams. It's for those whose dreams have been crus
hed and for those who show us that dreams take time. Join us this Advent as we dream alongside prophets and angels, Mary and the Magi. Join us as we seek and sow God's dreams for our world.
We are using material created by A Sanctified Art (sanctifiedart.org)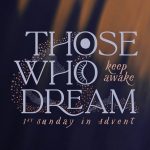 November 29 – Advent 1 – "Those who dream – keep awake" – Wayne Nitzsche, preaching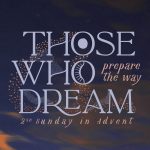 December 6 – Advent 2 – "Those who dream – prepare the way" – Jessica Miller, preaching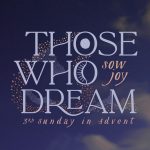 December 13 – Advent 3 – "Those who dream – sow joy" – Wayne Nitzsche, preaching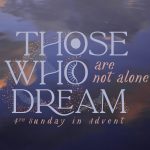 December 20 – Advent 4 – "Those who dream – are not alone" – Jessica and Wayne, preaching
December 21 – 7:00 pm – Longest Night Service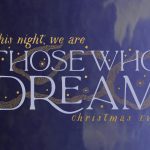 December 24 – Christmas Eve – "This night, we are those who dream"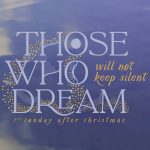 December 27 – Christmas 1 – "Those who dream – will not keep silent" – Wayne Nitzsche, preaching
January 3, 2021 – Epiphany – "Those who dream – persevere" – Jessica Miller, preaching
All our services are online via Zoom at 9:30 am every Sunday morning.
You will find us using log-in information:
Join Zoom Meeting
https://us02web.zoom.us/j/88959187071?pwd=aG9QWHQzcGZEd0QvY2RXR1JnSEE0Zz09
Meeting ID: 889 5918 7071
Passcode: 941102
One tap mobile
+13017158592,,88959187071# US (Washington D.C)
+13126266799,,88959187071# US (Chicago)
Dial by your location
+1 301 715 8592 US (Washington D.C)
+1 312 626 6799 US (Chicago)
+1 929 205 6099 US (New York)
+1 253 215 8782 US (Tacoma)
+1 346 248 7799 US (Houston)
+1 669 900 6833 US (San Jose)
Meeting ID: 889 5918 7071
What can I expect when I come to visit?
You might wonder what to expect when coming to a worship service at our church. These Questions and Answers may help you feel more comfortable so you can enter into the worship of God.
Q – What happens when someone visits for the first time?
A – You will be warmly and personally greeted. We will not introduce you during the service so as not to put you on the spot. We'd like you to sign our guest book so we can be in touch with you.
Q – What should I wear?
A – Most persons are dressed in casual clothes. Jeans and shorts are OK, as are ties and skirts. The majority of persons are somewhere in the middle.
Q – What's your worship service like?
A – You might say we are "structured yet casual". You can count on a Biblical emphasis, a lot of congregational participation, and relevant themes. We work hard at being "visitor-friendly" when matters pertaining to the Mennonite church are introduced. We love to sing. Preaching is centered in scripture. We have a time for sharing and we provide a coffee time following the service.
Q – Do I have to be a Mennonite to visit, or become involved at Perkasie Mennonite Church?
A – Not at all. Some of us are not life-long Mennonites, some of us are. It doesn't matter. You can read more about our history.
Q – How do you follow up with visitors?
A – We will contact you to thank you for visiting. After that, we'll take our cues from you. We neither want to smother you with unwanted attention, nor ignore you.
After you worship with us we'd love to hear from you. Let us know about your experience. We learn and grow through experience.