Perkasie Patchwork Coffeehouse is thrilled to welcome Rolly Brown and Kelly Planer and the Perks to an afternoon outdoor concert. The concert will be held Saturday afternoon, October 15, at 3 pm in the paved area next to Perkasie Mennonite Church, 320 W Chestnut St., Perkasie, Pa.  Look for the tent and chairs. Please dress for outdoor weather.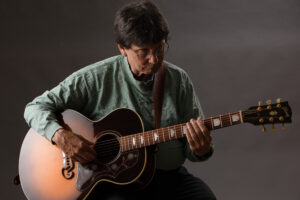 Rolly Brown is a guitarist, singer, and songwriter living in Bucks County PA. He has been a National Guitar Fingerpicking Champion and a Philadelphia Music Award nominee. In a career spanning 50+ years, he has been a solo performer, sideman, studio musician, radio producer, and teacher, performing over much of the United States, and in Canada and Australia. He considers himself a lifelong student of the guitar and his musical passions have included folk, blues, jazz, swing, bluegrass, and original fingerstyle guitar. He is adept at both fingerpicking and flatpicking. In recent years, Rolly has focused on songwriting. He is also an acupuncturist and T'ai Chi Ch'uan instructor, and a dog lover.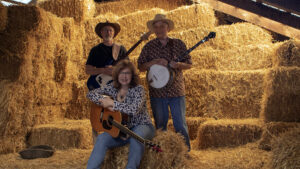 Bluegrass barely scratches the surface of the music of Kelly Planer and the Perks. Alt-bluegrass, American Roots Music comes closer, yet we prefer to keep our options open. With Dave Coin's sly banjo, Kelly's vocals, and Dave Imhof's solid bass, you never know what the Perks will come up with next. From The Beatles and Nirvana to traditional Bluegrass, every Perks show is full of unmistakable style and fun.
Tickets donations (cash only) will be $10 per person. Additional online donations for the Patchwork concerts are always appreciated.