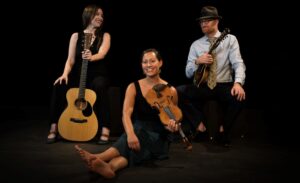 Perkasie Patchwork Coffeehouse is thrilled to welcome Low Lily to the November coffeehouse on Saturday, November 18, 7:30 pm. Doors open at 7 pm.
With a vocal blend that has been dubbed "outstanding" and "meticulous," Low Lily has crafted a signature sound which they have shared with enthusiastic audiences throughout North America and the UK, garnering two #1 songs on international folk radio and two Independent Music Award wins.
Chosen as Falcon Ridge Folk Festival's "Most Wanted Band" of 2016, Low Lily plays acoustic music that is deeply rooted in tradition yet sounds refreshingly contemporary. In the past six years, the band released a full-length album with award-winning title track "10,000 Days Like These" and their original song "Hope Lingers On", which has been sung by choirs around the world as an anthem for peace and justice. In the past couple of years, they have also released a couple of singles and a holiday EP, and are currently recording their third album, "Angels in the Wreckage".
The members of Low Lily are veterans of the stage, having performed with numerous well-known names in folk and traditional music: Mandolinist/guitarist/singer Flynn Cohen has toured with Ruth Moody, John Whelan, Cathie Ryan and Aoife Clancy. Guitarist/singer Liz Simmons has performed alongside Tom Chapin, Livingston Taylor, Melanie, and Long Time Courting. Newest member Fiddler/singer Natalie Padilla has performed with Peter Rowan and Elephant Revival.
November concert flyer.
The Perkasie Patchwork Coffeehouse is a ministry of the Perkasie Mennonite Church. The coffeehouse is warm and cozy, with lots of atmosphere. It is a place where people can enjoy fellowship and see some of the best performers available up close and personal, in an intimate setting. Perkasie Patchwork Coffeehouse is located in the church fellowship hall, which is air conditioned and handicap accessible.
Admission: $15 for adults; $12 for adults 65 and over; students 13 and up, $8; 12 and under free. All ticket sales at door, no advance sales, no reservations.  Delicious desserts and drinks are available. The doors open at 7:00 and performances begin at 7:30.
A portion of our proceeds goes to a local or international social cause. The benefit for November is Pennridge FISH. You can also drop off donations of non-perishable food at Patchwork for Pennridge FISH (Fellowship in Serving Humanity), our local non-profit food pantry and clothing outlet here in Perkasie at all our concerts.