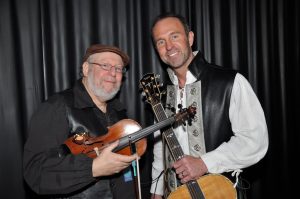 Charlie Zahm is one of the most popular soloists at Celtic music festivals, Maritime, and American Traditional music events anywhere east of the Mississippi. With a baritone voice some have described as "coming along once in a generation," Charlie has become one of the most successful performers on the Celtic festival circuit, weaving magical moments of Scottish and Irish history for the listener and viewer, with passion for the performance and a chosen repertoire pleasing to all members of the family. A master of the guitar as well, Charlie brings an authentic love and respect for the music he sings-and with dashes of humor and a light in his eyes, he will draw you into the stories of his songs!
Charlie has released two DVD projects: "Out of the Mist" was released in 2002 and was entirely filmed in Scotland; "Charlie Zahm: An Evening of Classic Melodies" is a live concert DVD with Charlie and his band that was produced in 2007 in cooperation with Franklin Springs Family Media of Nashville. These projects again demonstrate that Charlie's vocal ability is rarely matched inside or outside Celtic music, and his mastery of the guitar is the perfect complement to his vocal performance. Both of these DVD projects are also available on CD. Charlie also appeared as a singing soldier in the film "Gettysburg—Three Days of Destiny."
Charlie is often joined by fantastic Baltimore fiddler Tad Marks, who has toured extensively across the U.S. and Europe with top-name groups and is considered one of the finest fiddlers on the East Coast. His down-home charm and easy-going style have made him friends across the country, Tad Marksand his fine fiddling on stage with Charlie ranges from hard-driving jigs and reels to the most expressive accompaniment for vocals you will ever hear. His solo CD releases have received great praise from traditional Celtic and bluegrass fiddle-music lovers alike! Tad's music has also been featured on many of Charlie's albums and dozens of additional CDs by other artists, TV commercials, and on various other projects.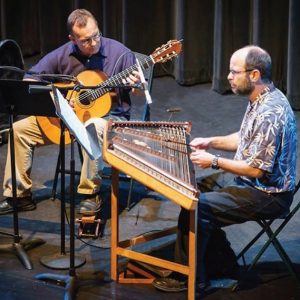 Opening the evening is Tachyonmetry. Tachyonmetry was born on an organic farm during a harvest festival in 2005, where Brian Pearson and Cliff Cole met as volunteer musicians. After years at this annual event, they both agreed they had something special. The sultry smooth sounds of the nylon string classical guitar were complemented perfectly by the percussive, ethereal qualities of the hammered dulcimer. Along the way, Cliff was producing his daughter's solo album and they asked for Brian's help with the recording. Brian also joined the band for Emily Rose Cole's 2013 tour. In 2014 Brian and Cliff decided to start working on an their own recording. This labor of love has been filled with many other musicians who have colored the tunes and blessed the project.
In 2016, Tachyonmetry (tackee.on.mətree) was coined, framing the future of the project and establishing Brian and Cliff's vision of pushing the limits of the musical and spiritual realms towards an ever changing landscape of harmony, melody, and lyrics.
April concert flyer.
The Perkasie Patchwork Coffeehouse is a ministry of the Perkasie Mennonite Church. The coffeehouse is warm and cozy, with lots of atmosphere. It is a place where people can enjoy fellowship and see some of the best performers available up close and personal, in an intimate setting. Perkasie Patchwork Coffeehouse is located in the church fellowship hall, which is air conditioned and handicap accessible.
Admission: $12 for adults; $10 for adults 65 and over; students 13 and up, $6; 12 and under free. All ticket sales at door, no advance sales, no reservations.  Delicious desserts and drinks are available. The doors open at 7:00 and performances begin at 7:30.
A portion of our proceeds from each concert will go to a local or international social cause. The benefit for  April is Upper Bucks Code Blue, advocating for and providing emergency shelter and assistance to local homeless. You can also drop off donations of non-perishable food at Patchwork for Pennridge FISH (Fellowship In Serving Humanity), our local non-profit food pantry and clothing outlet here in Perkasie at all our concerts.