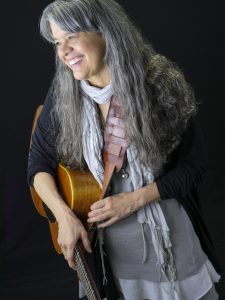 Anne Hills is one of the most beloved voices of the contemporary folk music scene, receiving awards and recognition for her live performances, her unique solo and collaborative recording projects, and her overall artistry and benefit work. Her song "Follow That Road" was the title cut of the Martha's Vineyard Songwriter Retreat and has been a certified folk classic since the late 1990s. Whether she is singing her own songs, the words of six-year-old Opal Whiteley, or her song settings of the Hoosier poet James Whitcomb Riley; accompanied with her guitar, banjo, or simply a Tibetan bell, she puts her whole heart and soul into the moment. You won't want to miss a chance to hear her songs and stories in person. She tours extensively, winning over audiences with her warm, lively and humorous performances. (And if you love her writing, be sure to check out her "Haiku a Day" shared via her Facebook page!) The AllMusic Guide says, "A stunning soprano tone has made Anne Hills one of contemporary music's premiere vocalists … Her knack for writing heartfelt songs [has] brought her to the upper echelon of her craft." and Tom Paxton says, "Anne Hills is such an exquisite singer that it's understandable that people might be swept up in the pure beauty of her voice and thereby overlook her writing. That would be a mistake. For me, Anne's writing, in songs like 'Follow That Road' and many others, is as direct, melodic and deep as any work being done today. She is quite simply one of my absolute favorite songwriters." Hear more from Anne at: www.annehills.com.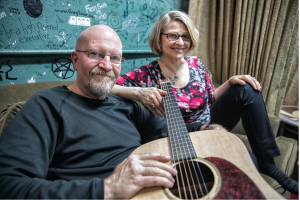 Opening the evening is Jamie Cook and Lesley Weissman-Cook — aka Too Many Cooks — draw their musical inspiration not just from traditional and contemporary folk artists, but also from bluegrass, jazz, blues, and depression-era American standards. They see the music they perform as living history, connecting us to our country's great musical roots and traditions.
The Perkasie Patchwork Coffeehouse is a ministry of the Perkasie Mennonite Church. The coffeehouse is warm and cozy, with lots of atmosphere. It is a place where people can enjoy fellowship and see some of the best performers available up close and personal, in an intimate setting. Perkasie Patchwork Coffeehouse is located in the church fellowship hall, which is air conditioned and handicap accessible.
Admission: $12 for adults; $10 for adults 65 and over; students 13 and up, $6; 12 and under free. All ticket sales at door, no advance sales, no reservations.  Delicious desserts and drinks are available. The doors open at 7:00 and performances begin at 7:30.
A portion of our proceeds from each concert will go to a local or international social cause. The benefit for our February 2020 concert will be RamPacks, a program initiated by St. Paul's UCC in Sellersville in cooperation with Pennridge Ministerium to provide weekend food for local hungry children in the Pennridge School District. You can also drop off donations of non-perishable food at Patchwork for Pennridge FISH (Fellowship In Serving Humanity), our local non-profit food pantry and clothing outlet here in Perkasie at all our concerts.
February poster.