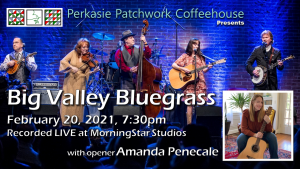 February 20 Concert Link
We are delighted to feature a virtual concert with the Big Valley Bluegrass Band who come to us from the Lehigh Valley.   Driven by powerful banjo riffs, melodic harmonies and tasteful mandolin / fiddle arrangements Big Valley delivers a wide array of high-energy, toe-tapping original songs and covers.  Tom & Gina Ross, Paul Spriet and Keith Kester penned personal lyrics that speak to the emotions and stir the soul on such songs as "We've Got This Thing", "Black Diamond" and "Mr. Conductor" all available on the sophomore release "The Other Side of the Valley".  Since 2011, BVB has been playing festivals from the Mohawk Valley in Upstate NY to the shores of the Outer Banks in NC, and everywhere in between.  In 2014, BVB received the high honor of opening for the "Queen of Bluegrass", Rhonda Vincent and Penn's Peak.  Most recent, BVB collaborated on and performed live with Chubby Checker on a single titled "Lookin' For Me" (TEEC Recordings) released nationally in 2016.
BAND PERSONNEL: Alison Gillespie – fiddle, vocals; Keith Kester – bass and vocals; Bill Parker – mandolin, guitar, vocals; Gina Ross – guitar, vocals; Paul Spriet, – banjo, vocals.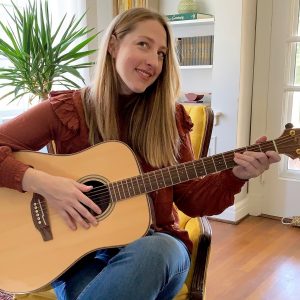 Opening the evening will be  Amanda Penecale. We enjoyed Amanda at our February 2020 concert as a guest of Anne Hills and are delighted to welcome her back to Patchwork.
Inspired by the ghosts of long-gone campfires and the mother church of country music, Amanda Penecale shares her naturalistic sound through voice, harmonica, and guitar. Her work conjures the feeling of rainy dew on cobwebs and an honest cup of coffee on a Sunday morning. Penecale ties the growing pains of modern consciousness to the simple joys of life with her lilting alto. As a writer she is inspired by the craft of storytelling found in companionship, daily experiences, and the natural world around us.
Amanda has independently released several solo projects since her first EP in 2009, and has been fortunate to be able to share in the joy of song through co-writing, attending jams, and playing shows with artists she greatly admires. She spent four years living in Nashville working on her songwriting craft and has returned home to Bucks County, Pa. Her band, The Lost Sleep, released an EP in 2014 titled Fools Gold, and they continue to write together long distance. She is also an active member of the Philadelphia Song Circle and Philadelphia Folksong Society Music Co-op.
Amanda has twice earned recognition for her writing as a finalist for the Philadelphia Songwriters Project. Her song Left Alone with You, co-written with Craig Lackey, was a finalist in the 4th Annual Christmas Songwriting Competition by the USA Songwriting Competition.
Amanda has found herself equally at home performing, writing, and as a painter and art teacher. She lives in Ottsville PA on a small family farm where she enjoys spending time with her dog and family.
The concert will be live-streamed from our friends at MorningStar Studios.
Link to the virtual concert on YouTube.
Donations for the Patchwork virtual concerts coming up this spring are appreciated.