March 20 Concert Link
We are delighted to feature a virtual concert with Seasons – Five siblings create a fusion of Celtic and roots music on harp, hammered dulcimer, mandolin, fiddle, and more. Their original music has been featured on both national radio and television, including the show Life on the Rock.
Their six albums have received International recognition in Irish Music Magazine, Roots Magazine, Faith and Family Magazine, and more. Mary-Kate has won first place for Celtic harp at the the Mid-Atlantic Fleadh, and has competed in the All-Ireland Harp Competition in both Derry and Sligo, Ireland. Mary-Grace has also won first place in the Mid-Atlantic Fleadh on Miscellaneous Instrument, and competed internationally in Ireland.
From Musical Festivals to Renaissance Fairs, from busking the streets of Ireland to performing for school assemblies, Seasons strives to share their music where and when ever they can. With their influences ranging from O'Carolan to Yeah Yeah Yeahs, the group creates an exciting and surprising fusion of various Celtic and American folks styles in their original music, resulting in a sound that is truly worth a listen.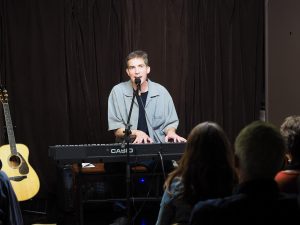 Opening the evening will be Justin Solonynka. For over twenty years Justin has performed his virtuosic piano blend of folk, rock, and jazz for audiences throughout the greater Philadelphia area. He combines original rock songs and beautiful instrumentals with his gift for storytelling to create shows that are enjoyed by people of all ages.
The concert will be live-streamed from our friends at MorningStar Studios.
Link to the virtual concert on YouTube.
Donations for the Patchwork virtual concerts coming up this spring are appreciated.