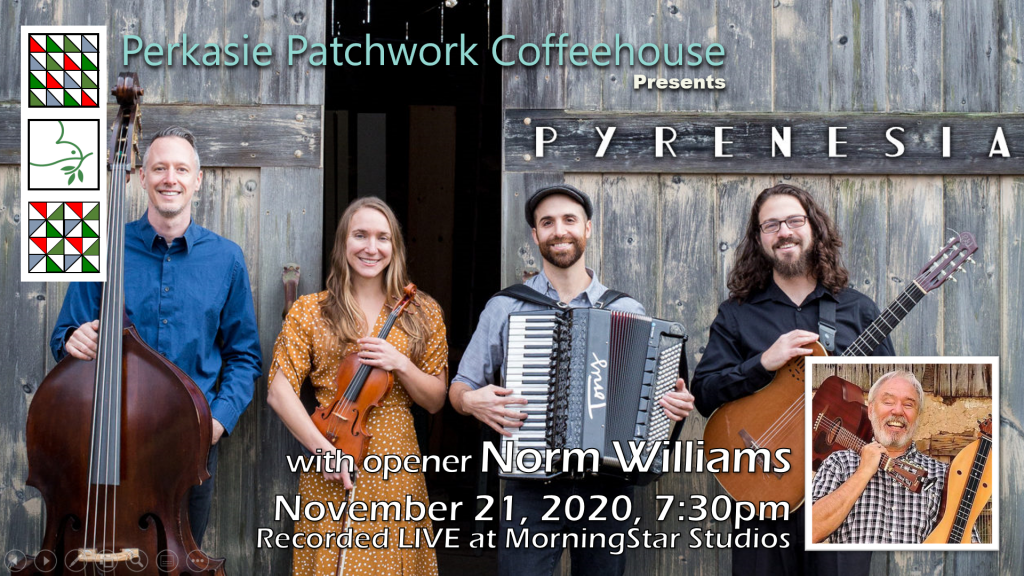 Listen to our November virtual concert.
Perkasie Patchwork Coffeehouse Concert on 11/21/2020 Feature: Pyrenesia. Opener: Norm Williams with 15 min opening music before concert starts.
For our November virtual concert we'll feature Pyrenesia, a gypsy-swing-jazz-folk quartet based in the beautiful river town Lambertville, NJ. Combining original compositions with the Django Reinhardt tradition of gypsy jazz, Eastern European and klezmer melodies, and anything else that swings, Pyrenesia delivers a foot-stomping, dress-swirling, hand-clapping experience to lift spirits and transport listeners to a musical landscape as vast as the Pyrenees mountains are high.
Traditional old-time and gospel musician, Norm Williams, will open the evening. Norm is a performer/teacher of the mountain dulcimer who also plays guitar, banjo, ukulele, native flute and vocals. Old-Time Appalachian fiddle and gospel songs and tunes as well as other folk styles influence his playing and singing.
The concert will be live-streamed from our friends at MorningStar Studios.
Join us on YouTube virtual concert. Suggested donation for the concert is $10 per person (or whatever you can do) to support our great performers.  Thanks for helping us continue to offer these concerts. Much appreciated.