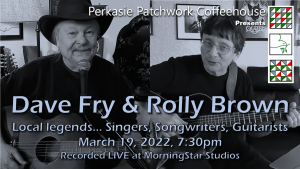 Link to the virtual concert on YouTube.
Perkasie Patchwork Coffeehouse is thrilled to welcome folksinger Dave Fry and guitar wizard Rolly Brown. During this virtual concert, these two talented performers will play individual sets then will collaborate on a memorial tribute to Bill Staines.
Dave Fry – Growing up in upstate New York in the 60's, then graduating from Lehigh University in 1973 with two degrees (BS – Mechanical Engineering, BA – Philosophy), Dave Fry began performing folk music in college with the Graveyard Skiffle Band, specializing in early 20's folk and jug band music. The early 70's found Dave with the Shimersville Sheiks, expanding his horizons with bluegrass, early country, blues and novelty acoustic music. It was in spring of 1976 that Dave founded Godfrey Daniels in Bethlehem, a 100-seat coffeehouse and listening club that eventually became a not-for-profit organization in 1983, and remains an important and well-respected stop on the national and international folk circuit today.
Rolly Brown is a guitarist living in Bucks County PA. He has been a National Guitar Fingerpicking Champion and a Philadelphia Music Award nominee. Over a long and checkered musical career, he has been a solo performer, sideman, studio musician, radio producer, and teacher. His musical passions have included folk, blues, jazz, swing, bluegrass, and original fingerstyle guitar. He is adept at both fingerpicking and flatpicking. He is particularly known for his clear, concise teaching style. Rolly is also an acupuncturist and T'ai Chi Ch'uan instructor, a dog lover, and a motorcyclist.
The concert will be live-streamed from our friends at MorningStar Studios.
Donations for the Patchwork virtual concerts are appreciated. You may also mail donations earmarked for Perkasie Patchwork Coffeehouse to Perkasie Mennonite Church, 320 W Chestnut St., Perkasie, PA 18944.