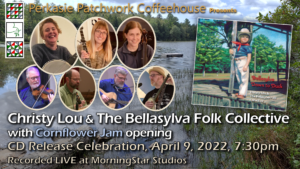 Link to the virtual concert on April 9.
Perkasie Patchwork Coffeehouse is thrilled to welcome a fine selection of musicians and friends Christy Lou Gross has brought together to form The Bellasylva Folk Collective for their album release and Opener Cornflower Jam.
Bellasylva is an unincorporated community in an area called "Dutch Mountain" in the Endless Mountains of Pennsylvania. Christy Lou's  German ancestors built a homestead on Dutch Mountain in the nineteenth century and this recording project honors the legacy of old-time music in her family. The album, "Bellasylva ~ Dawn to Dusk" is a mix of original music composed for the album as well as traditional music in the old-time style. The Bellasylva Folk Collective is a group of fourteen folk musicians from the Philadelphia and Lehigh Valley areas of Pennsylvania who have brought their musical talent to this special recording project. Almost all musicians in the collective have gathered and jammed together up at Bellasylva where nature, beauty, family, and community inspire us as we make music together.
Tonight's Bellasylva Folk Collective performers include:
Christy Lou Gross – Fiddle/Banjo/String Bass
Laura Alexander – Cello
Laura Fitzsimmons – Cello/Banjo
Jansen Wendell – Fiddle/Mandolin
Stan Zukowski – Banjo
Cliff Cole – Hammered Dulcimer
Rob Yoder – Guitar
Cornflower Jam is a Philly-based, female folk band is influenced by music legends such as the Carter Family, Pete Seeger, Malvina Reynolds, Rosalie Sorrels, Ollabelle Reed, and Hazel Dickens as well as modern Americana artists such as Bruce Molsky, Elizabeth LaPrelle, Anna Roberts-Gevalt, Alice Gerrard, Sierra Ferrell, and many more. In addition to covering the music of our heroes, we write, arrange, and sing/play our original songs and tunes.
Cornflower Jam performers are:
Laura Fitzsimmons – banjo, guitar, cello, vocals
Christy Lou Gross – guitar, banjo, fiddle, vocals
Laura Alexander – cello, vocals
The concert is live-streamed from our friends at MorningStar Studios.
Donations for the Patchwork virtual concerts are appreciated. Or if you prefer, you may mail your donations to Perkasie Mennonite Church, 320 W Chestnut St., Perkasie, PA 18944.