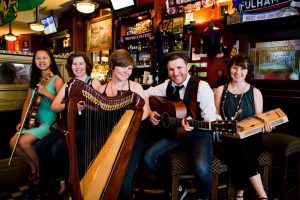 Seasons – Five siblings create a fusion of Celtic and roots music on harp, hammered dulcimer, mandolin, fiddle, and more. Their original music has been featured on both national radio and television, including the show Life on the Rock.
Their six albums have received International recognition in Irish Music Magazine, Roots Magazine, Faith and Family Magazine, and more. Mary-Kate has won first place for Celtic harp at the the Mid-Atlantic Fleadh, and has competed in the All-Ireland Harp Competition in both Derry and Sligo, Ireland. Mary-Grace has also won first place in the Mid-Atlantic Fleadh on Miscellaneous Instrument, and competed internationally in Ireland.
From Musical Festivals to Renaissance Fairs, from busking the streets of Ireland to performing for school assemblies, Seasons strives to share their music where and when ever they can. With their influences ranging from O'Carolan to Yeah Yeah Yeahs, the group creates an exciting and surprising fusion of various Celtic and American folks styles in their original music, resulting in a sound that is truly worth a listen.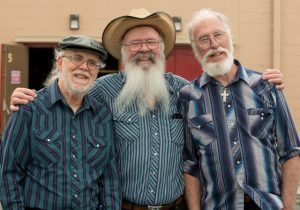 Opening the evening the evening is the Brush Brothers. Bert Coffman and Pete Kellers both started their musical careers during the folk music revival of the 50's and 60's. They first got together over 25 years ago, playing at Bucks County Folk Song Society events with the band, "Unsafe At Any Speed". They continued to play and sharpen their musical chops with Unsafe until the band went on indefinite hiatus in 2015. They continued on as a duo until hooking up with Dave Crosman.
Dave grew up with a love for the music that his father and grandfather were singing, mostly old popular songs and tunes used for square dances that both father and grandfather would "call" for on occasion. He also sang in glee clubs and choir. Dave started fooling around with guitar in his late teens being completely self-taught. Before hooking up with Bert and Pete, he was playing with Fools & Prophets, and continues to do so.
They have now combined their eclectic repertoires of classic country, folk, bluegrass, gospel, humorous and original tunes as the Brush Brothers. They wield a formidable arsenal of weapons of mass distraction, including guitar, electric bass, tenor and 5-string banjo, mandolin, dobro, harmonica and autoharp.
The Perkasie Patchwork Coffeehouse is a ministry of the Perkasie Mennonite Church. The coffeehouse is warm and cozy, with lots of atmosphere. It is a place where people can enjoy fellowship and see some of the best performers available up close and personal, in an intimate setting. Perkasie Patchwork Coffeehouse is located in the church fellowship hall, which is air conditioned and handicap accessible.
Admission: $12 for adults; $10 for adults 65 and over; students 13 and up, $6; 12 and under free. All ticket sales at door, no advance sales, no reservations.  Delicious desserts and drinks are available. The doors open at 7:00 and performances begin at 7:30.
A portion of our proceeds from each concert will go to a local or international social cause.  The benefit for March is Mennonite Disaster Service Puerto Rico. You may also drop off donations of non-perishable food at Patchwork for Pennridge FISH (Fellowship In Serving Humanity), our local non-profit food pantry and clothing outlet here in Perkasie, at all our concerts.
March poster