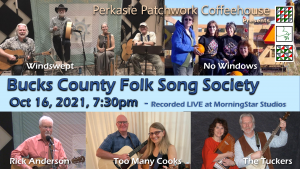 Link to the October virtual concert
Tonight's concert features five groups or individual performers from the Bucks County Folk Song Society, many of whom will be familiar to Patchwork audiences from previous appearances:
Tom and Marianne Tucker
No Windows
Windswept
Too Many Cooks
Rick Anderson
The Bucks County Folk Song Society has been in existence for over 60 years, performing and supporting folk and acoustic music in and around Buck County. Its membership is based around a core group of accomplished musicians who perform frequently at various events in the area. These events include regular appearances at the Doylestown Arts Festival and Perkasie Fall Festival and more. The members also get together monthly to share their music and also to welcome and encourage those who are building new skills. More information.
Although the society had its roots in the folk revival of the 1960's, the defining feature of society performances is variety. Its artists today represent all acoustic genres from traditional and contemporary folk to singer-songwriter, traditional country, bluegrass, gospel, tin pan alley, and a variety of original compositions. Many traditional acoustic instruments and styles may be represented, including 6- and 12-string guitar, banjo, mandolin, resophonic guitar (dobro), dulcimer, accordion, concertina, harmonica, flute, whistle, musical saw, plus bass guitar and assorted percussion instruments.
The concert will be live-streamed from our friends at MorningStar Studios.
Link to the virtual concert on YouTube.
Donations for the Patchwork virtual concerts are appreciated. You may also mail donations earmarked for Perkasie Patchwork Coffeehouse to Perkasie Mennonite Church, 320 W Chestnut St., Perkasie, PA 18944.