Thank you very much for all of the donations for this fundraiser concert to benefit Afghan Refugee Resettlement.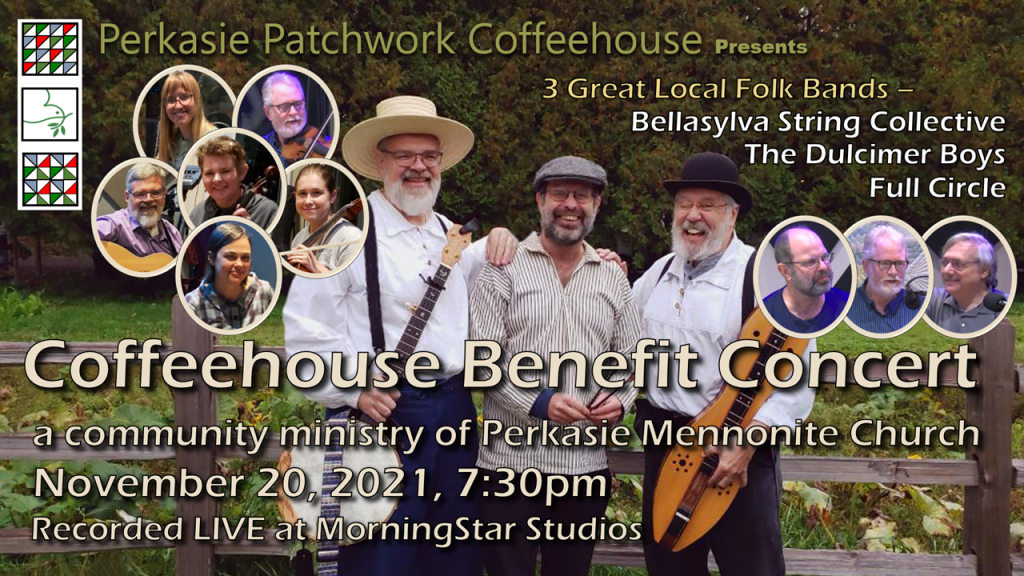 Link to the November virtual concert.
We are honored that three great local folk bands will present a delightful evening of music as a fundraiser with proceeds to benefit Afghan Refugee Resettlement.
Bellasylva String Collective
Christy Lou Gross – Fiddle/Banjo/String Bass
Laura Alexander – Cello
Laura Fitzsimmons – Cello/Banjo
Rachel Wells Hall – Concertina/Accordion
Jansen Wendell – Fiddle/Mandolin
Rob Yoder – Guitar
The Dulcimer Boys
Cliff Cole – Hammered Dulcimer/Guitar
Norm Williams – Mountain Dulcimer/Guitar
Rob Yoder – Guitar/Concertina/Banjo
Full Circle
Jansen Wendell, Cliff Cole, Andy Finkel
The concert will be live-streamed from our friends at MorningStar Studios.
Donations for the Patchwork virtual concerts are appreciated. You may also mail donations earmarked for Perkasie Patchwork Coffeehouse to Perkasie Mennonite Church, 320 W Chestnut St., Perkasie, PA 18944.