"Picking up the torch of protest folk song for the next generation…old songs for new struggles."
Stunningly powerful vocal harmony floods the room as the four Windborne singers present Song on the Times, their project of working class movements for peoples' rights from the past 400 years, sung for today struggles. The group was catapulted to new heights when clip of them singing in protest outside Trump tower went viral, and their Indiegogo for the project raised 1,600% of its goal from 2,600 people in every State and 22 countries. Aside from this new project, Windborne has collected and studied polyphonic vocal music for over 15 years from traditional singing masters from cultures around the world, Windborne is able to shift from radically different genres like no band you have ever heard, as comfortable with an improvised Corsican couplet song, as an English ballad. Lynn Mahoney Rowan, Will Thomas Rowan, Lauren Breunig, and Jeremy Carter-Gordon share a vibrant energy onstage – their connection to each other and to the music clearly evident. They educate as they entertain, telling stories about the music and explaining the characteristics and stylistic elements of the traditions in which they sing.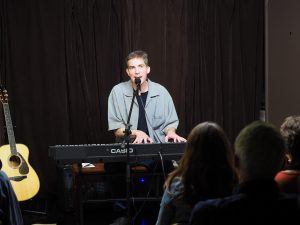 Opening the evening is Justin Solonynka . For over twenty years Justin has performed his virtuosic piano blend of folk, rock, and jazz for audiences throughout the greater Philadelphia area. He combines original rock songs and beautiful instrumentals with his gift for storytelling to create shows that are enjoyed by people of all ages.
The Perkasie Patchwork Coffeehouse is a ministry of the Perkasie Mennonite Church. The coffeehouse is warm and cozy, with lots of atmosphere. It is a place where people can enjoy fellowship and see some of the best performers available up close and personal, in an intimate setting. Perkasie Patchwork Coffeehouse is located in the church fellowship hall, which is air conditioned and handicap accessible.
Admission: $12 for adults; $10 for adults 65 and over; students 13 and up, $6; 12 and under free. All ticket sales at door, no advance sales, no reservations.  Delicious desserts and drinks are available. The doors open at 7:00 and performances begin at 7:30. A portion of our proceeds from each concert will go to a local or international social cause.  The benefit for April is Mennonite Disaster Service Puerto Rico. You may also drop off donations of non-perishable food at Patchwork for Pennridge FISH (Fellowship In Serving Humanity), our local non-profit food pantry and clothing outlet here in Perkasie, at all our concerts.