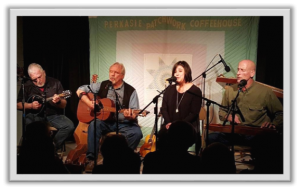 For our November virtual concert longtime friends and wayfarers, Norm Williams and Bob Mallalieu, are joined by the fine company of Amanda Parker and John James to comprise Wayfarers & Company. This exciting group performs gospel music and old time songs on traditional instruments such as guitars, hammered and lap dulcimers, fiddle, flute, mandolin, harp and banjo, as well as stirring a cappella arrangements of traditional music.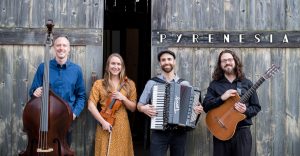 Opening the evening will be Pyrenesia.  Pyrenesia is a gypsy-swing-jazz-folk quartet based in the beautiful river town Lambertville, NJ. Combining original compositions with the Django Reinhardt tradition of gypsy jazz, Eastern European and klezmer melodies, and anything else that swings, Pyrenesia delivers a foot-stomping, dress-swirling, hand-clapping experience to lift spirits and transport listeners to a musical landscape as vast as the Pyrenees mountains are high.
Link coming soon for this vitual concert.