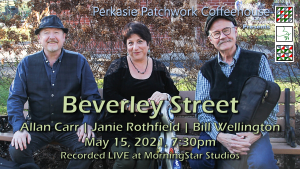 Link to May virtual concert.
Tonight's concert features the Beverley Street. From Staunton, VA, Beverley Street (with Perkasie favorites Janie Rothfield and Allan Carr) is a high energy power-house trio of master musicians who share songs, tunes and stories from Appalachian Old Time and Celtic music traditions.  Their music features the driving and award winning fiddling of Janie Rothfield, Bill Wellington's in the pocket and melodic clawhammer banjo playing and Allan Carr's rhythmic and creative back up guitar PLUS fantastic singing by all members of the band-plus they are really funny!!
Watch Beverley Street on YouTube.
The concert will be live-streamed from our friends at MorningStar Studios.
Link to the virtual concert on YouTube.
Donations for the Patchwork virtual concerts coming up this spring are appreciated. You may also mail donations earmarked for Perkasie Patchwork Coffeehouse to Perkasie Mennonite Church, 320 W Chestnut St., Perkasie, PA 18944.