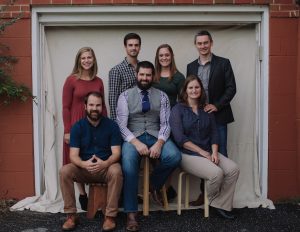 The Walking Roots Band is an Acoustic-Americana, folk, bluegrass-y, roots music group from Harrisonburg, VA. Mixing a variety of musical tastes and influences, TWRB features rich vocal harmonies, distinctive songwriting and arrangements, and a flair for unassuming originality. A combination of humor, reflection, storytelling, joy, hope, love and good, clean fun makes the Walking Roots Band a favorite with fans of all ages.
Opening the evening is Cindy Ruenes and Friends. Three friends that performed on her CD will be joining Cindy. They are: Steve Rocca on guitar and vocals, Brian Pearson on guitar and vocals and Cliff Cole on drums.  You may also find more information on Cindy's Facebook page.
November concert flyer.
The Perkasie Patchwork Coffeehouse is a ministry of the Perkasie Mennonite Church. The coffeehouse is warm and cozy, with lots of atmosphere. It is a place where people can enjoy fellowship and see some of the best performers available up close and personal, in an intimate setting. Perkasie Patchwork Coffeehouse is located in the church fellowship hall, which is air conditioned and handicap accessible.
Admission: $12 for adults; $10 for adults 65 and over; students 13 and up, $6; 12 and under free. All ticket sales at door, no advance sales, no reservations.  Delicious desserts and drinks are available. The doors open at 7:00 and performances begin at 7:30.
A portion of our proceeds from each concert will go to a local or international social cause. The benefit for our November 2019 and February 2020 concerts will be RamPacks, a program initiated by St. Paul's UCC in Sellersville in cooperation with Pennridge Ministerium to provide weekend food for local hungry children in the Pennridge School District. You can also drop off donations of non-perishable food at Patchwork for Pennridge FISH (Fellowship In Serving Humanity), our local non-profit food pantry and clothing outlet here in Perkasie at all our concerts.