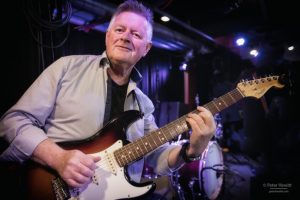 Master story teller and guitarist Seamus Kelleher was born in Galway city in 1954. The youngest of five children, he studied piano at age nine and continued to do so until he picked up the guitar at age fourteen. Within a few weeks, Seamus knew what he would be doing for the rest of his life. By age 15, he was performing acoustic concerts at venues all over Galway. By 16 he joined a rock group called Spoonful where he switched from acoustic to electric guitar. He quickly developed a reputation for his flamboyant blues-style guitar often opening for bands such as Thin Lizzy. Seamus toured the US in 1974 with a band called Rock & Roll Circus. Shortly after the tour, he packed his bags and moved to New York where once again he quickly developed a large following. He performed all over the US and Europe with the Sean Fleming Band.
In 1996 he joined forces with Blackthorn, Philadelphia's legendary Celtic Rock band. Seamus did more than a thousand shows with Blackthorn. In 2010, Seamus decided it was time to embark on a solo career. In just a few short years, he has put together a show that combines comedy, story telling. virtuoso guitar playing and a wonderful collection of original and unique cover material. His shows are not for the faint of heart. He will keep you on the edge of your seat for hours so fasten up and enjoy the ride!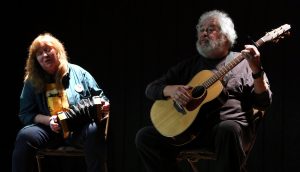 Opening the evening is Lynn and Tony Hughes who have been performing songs together for more than 50 years. Their repertoire is "a little folk, a little country, a lot of Celtic, and traditional carols in season." Frequent trips to Ireland, Scotland, and England have enabled them to learn songs at their source. Born and raised in Augusta, Georgia, Tony is a songwriter, some of whose work has moved into the folk tradition and is widely sung. The Little Blue Top was used as the theme song for the PBS broadcast of the 1972 Philadelphia Folk Festival, recorded when Tony performed it in the Saturday night concert that year. Tony plays guitar and English concertina. Originally from the Philadelphia area, Lynn plays guitar, Anglo concertina, button accordion, pennywhistle, and bodhran. Their close harmonies and onstage patter have entertained audiences in pubs, concert spaces, street fairs, and private events. Although their work as full-time schoolteachers limited the amount of performing they could do in the past, they are now both retired and are enjoying the opportunity to share their music more widely.
March concert flyer.
The Perkasie Patchwork Coffeehouse is a ministry of the Perkasie Mennonite Church. The coffeehouse is warm and cozy, with lots of atmosphere. It is a place where people can enjoy fellowship and see some of the best performers available up close and personal, in an intimate setting. Perkasie Patchwork Coffeehouse is located in the church fellowship hall, which is air conditioned and handicap accessible.
Admission: $12 for adults; $10 for adults 65 and over; students 13 and up, $6; 12 and under free. All ticket sales at door, no advance sales, no reservations.  Delicious desserts and drinks are available. The doors open at 7:00 and performances begin at 7:30.
A portion of our proceeds from each concert will go to a local or international social cause.  For March our benefit supports Upper Bucks Code Blue, advocating for and providing emergency shelter and assistance to local homeless.  You can also drop off donations of non-perishable food at Patchwork for Pennridge FISH (Fellowship In Serving Humanity), our local non-profit food pantry and clothing outlet here in Perkasie at all our concerts.