Perkasie Patchwork Coffeehouse is thrilled to welcome Piper's Request to our next coffeehouse which will be back indoors on Saturday, November 19 at 7:30 pm. Doors open at 7 pm. Masks are required except when eating some of our delicious refreshments.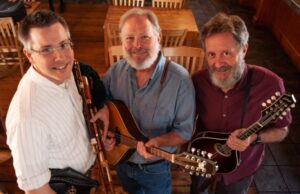 Piper's Request is a band rooted in the traditions of Irish and Scottish music, with tune sets and songs forged in hundreds of pub sessions and live performances over the past ten years. Based in the Lehigh Valley, the band features Terry Hartzell on the uilleann pipes, flutes and whistles; Fred Gilmartin on vocals, mandolin, fiddle, guitar and bodhran; and Rick Weaver on vocals, guitar, octave mandolin and tenor banjo.
November concert flyer.
The Perkasie Patchwork Coffeehouse is a ministry of the Perkasie Mennonite Church. The coffeehouse is warm and cozy, with lots of atmosphere. It is a place where people can enjoy fellowship and see some of the best performers available up close and personal, in an intimate setting. Perkasie Patchwork Coffeehouse is located in the church fellowship hall, which is air conditioned and handicap accessible.
Admission: $12 for adults; $10 for adults 65 and over; students 13 and up, $6; 12 and under free. All ticket sales at door, no advance sales, no reservations.  Delicious desserts and drinks are available. The doors open at 7:00 and performances begin at 7:30.
A portion of our proceeds goes to a local or international social cause. This concert's benefit is Southwest FL ERT, a program of Mennonite Disaster Service helping to repair and rebuild after the devastation of Hurricane Ian. You can also drop off donations of non-perishable food at Patchwork for Pennridge FISH (Fellowship in Serving Humanity), our local non-profit food pantry and clothing outlet here in Perkasie at all our concerts.