Perkasie Mennonite Church and Patchwork Coffeehouse invite you to an Old-Fashioned Christmas concert on Sunday, December 10, 4 pm, at Perkasie Mennonite Church, 320 W Chestnut St., Perkasie, Pa. The concert will be held in the church auditorium. Music by Tachonmetry, Joanna Mell and Dulcimer Boys. Christmas carols led by Rob Yoder. Prelude by Bert Coffman begins at 3:40 pm.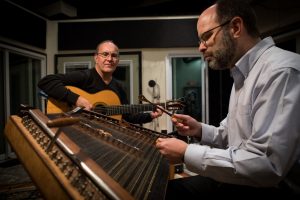 TACHONMETRY (tack-ee-on-mə-tree) was born on an organic farm during a harvest festival in 2005, where Brian Pearson and Cliff Cole met as volunteer musicians. After years at this annual event, they both agreed they had something special. The sultry smooth sounds of the nylon string classical guitar were complemented perfectly by the percussive, ethereal qualities of the hammered dulcimer.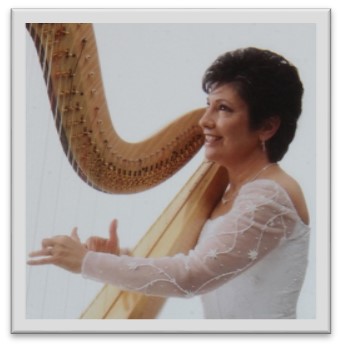 Joanna Mell is an accomplished harpist and harp teacher performing and teaching in the Southeastern Pennsylvania area. She makes any occasion special with her beautiful harp music. With over 30 years of experience, Joanna carefully tailors her musical selections to the desires of her clients, making each special event unforgettable. Joanna's students love her innovative and exciting style of teaching. Many of them have won awards on the local and national levels. Joanna teaches students all over the world by video on-line call. She is also a gifted composer and arranger.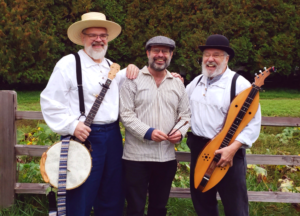 The Dulcimer Boys are Norm Williams (vocals, mountain dulcimer, banjo, guitar, and ukulele), Cliff Cole (hammered dulcimer, guitar, and percussion), and Rob Yoder (vocals, guitar, concertina, banjo, and mountain dulcimer). Norm, a member of the old-time and gospel group, Wayfarers & Company, joins two members of the traditional music group DayBreak to form this harmonious offshoot. Anna Lisa Yoder and Trudy Gojeski of also of DayBreak will add their musical talents on a few tunes.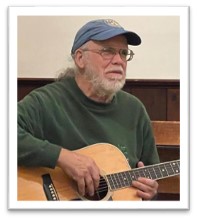 Bert Coffman has been performing folk, country, gospel, popular and original music on multiple stringed instruments for more years than he cares to remember. He has played at Patchwork Coffeehouse as a member of Unsafe at Any Speed quartet and more recently the Brush Brothers trio. This afternoon he will be playing familiar holiday instrumental selections on classic guitar and auto harp.
December concert flyer.
A free-will offering will benefit the ministries of Perkasie Mennonite Church. You can also drop off donations of non-perishable food to be donated to Pennridge FISH, our local food pantry.
Enjoy coffee and homemade cookies with us following the concert.